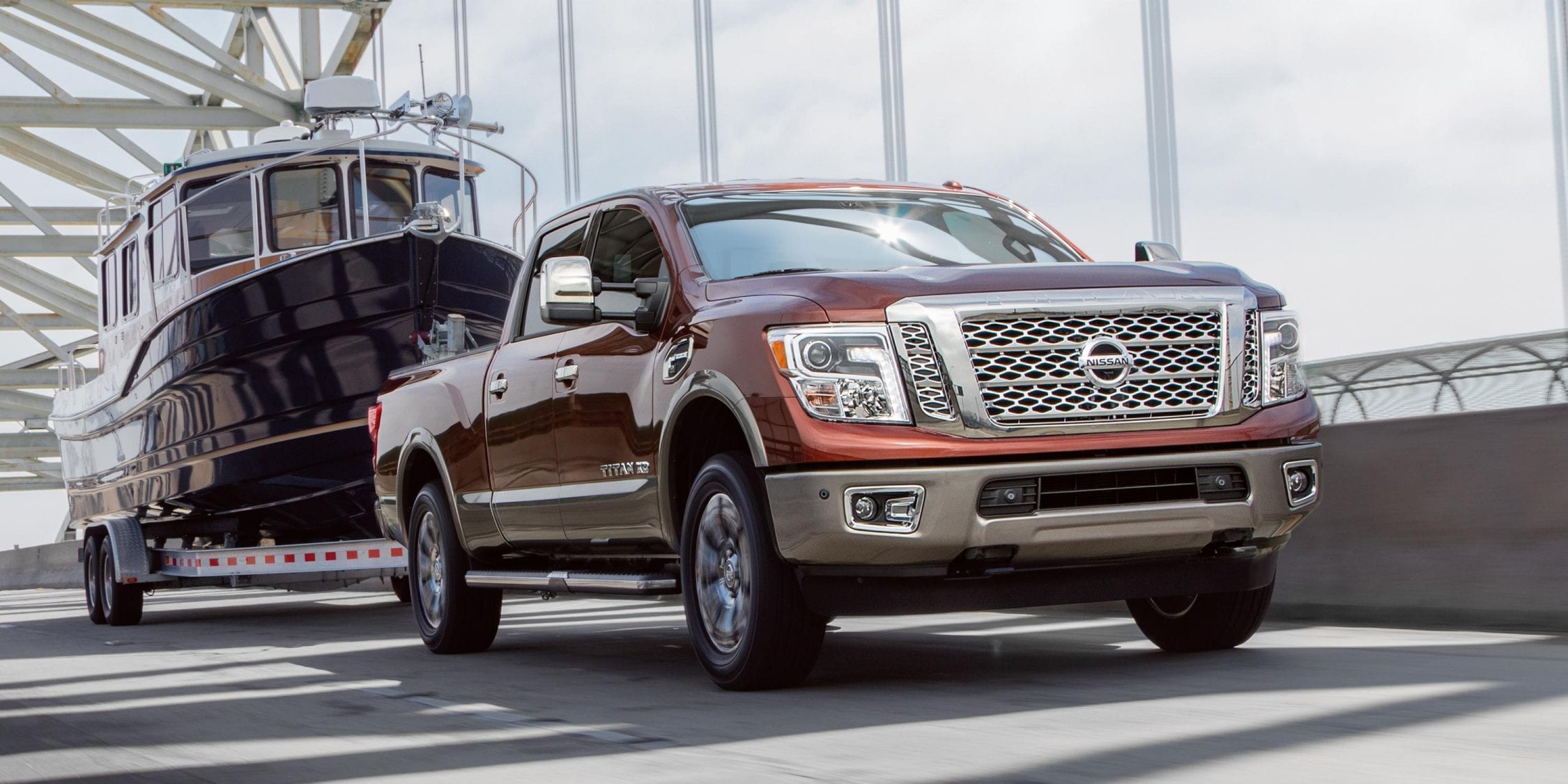 The rivalry between gas and diesel has been long debated. However, new EPA standards make the decision to buy gas or diesel more difficult. The Nissan Titan XD is available in both gas and diesel models. We'll break down the stereotype to help you determine the right truck for your lifestyle.
Towing Capability
So why choose diesel over gas? This question hinges on what you plan to do with your truck. For towing, both Cummins Turbo Diesel and Endurance V8 are capable of towing up to 11,280 pounds. However, the real difference is the torque the Cummins offers. Torque is the amount of low-end power an engine produces and gives the truck the ability to move quickly after stopping. The Cummins Turbo Diesel puts out 555 LB-FT of torque versus the Endruance V8's 394 LB-FT of torque. This difference gives the Cummins an edge when towing big loads for an extended period of time.
Breaking Down Cost
After you determine how much you plan on towing, you will need to break down the cost. The most noticeable cost will happen at the pump. While diesel used to be less expensive than gas, that's typically not the case now. As EPA requirements get stricter, the cost to produce lower-sulfur diesel fuels continues to rise. Newer diesel engines also come with more refined systems which help reduce the amount of pollutants left in the air. The increased complexity that goes into each diesel motor results in more parts and higher price tags. While the cost to run a diesel truck is typically more expensive, the savings you recoup in fuel efficiency will make owning a diesel cheaper in the long run.
It comes down to cost versus power. Both diesel and gas models offer more than enough power to tow and haul just about anything you can think of. However, if you're looking for a truck for the sole purpose of towing and hauling, the diesel model will handle these jobs with greater ease. For towing on occasion, the gas model is more than adequate. Regardless of which model you choose, the Nissan Titan XD will exceed your expectations.
Nissan Titan XD Cummins Turbo Diesel Engine
Diesel models come equipped with Cummins Turbo Diesel motors, which have 310HP and 555 LB-FT of torque. To accommodate the power of the Cummins Turbo, the Titan diesel has a heavy-duty 6-speed Aisin automatic transmission. Other available features include Bosch Ceramic Glow Plugs, which allow you to fire your engine up in a matter of seconds in cold temperatures; two-stage turbo, which gives you solid acceleration from the second you press the accelerator; and lightweight CGI block, which gives the Cummins engine less weight.
Nissan Titan XD Endurance V8 Gas Engine
Gas models come equipped with Titan XD's 5.6-Liter Endurance V8 engines, which have 390 HP and 394 LB-FT torque. This power comes from Titan's Direct Injection, 4-valve-per-cylinder design, and Variable Valve Event and Lift (VVEL). Despite all its power, the Endurance V8 remains competitive in terms of fuel efficiency, with 15 mpg in the city and 21 mpg on the highway.
AutoNation Nissan Pembroke Pines has multiple Nissan Titans to choose from. Stop by today and check out our selection, or contact us to schedule a test drive.