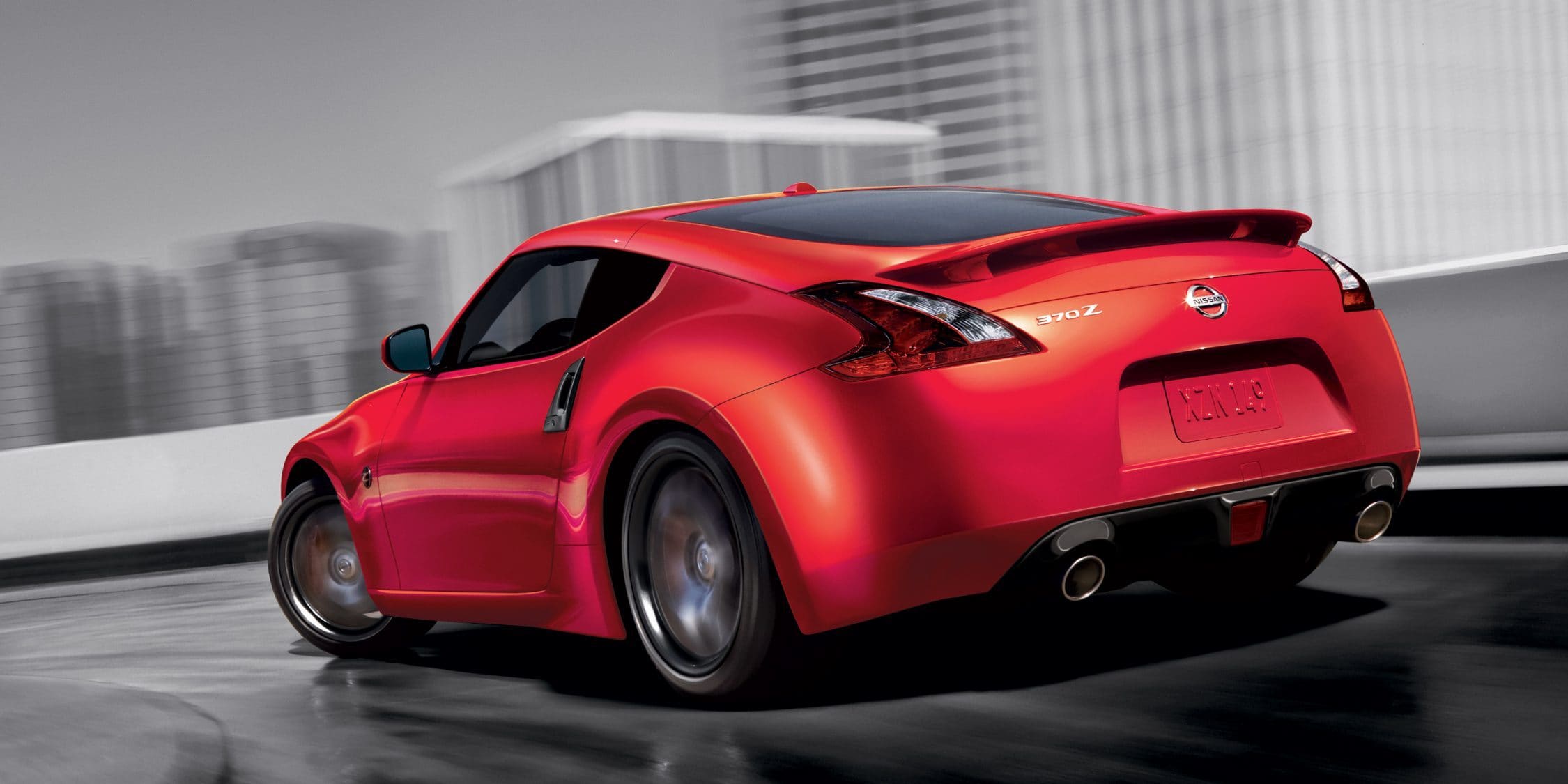 For almost five decades, the Nissan Z has developed a legacy of high-end performance. Like the
Nissan GT-R
, the 370Z was designed to go fast. With the 4
th
generation VQ V6 pumping out 332 horsepower and 270 lb-ft of torque, driving the 370Z can be summed up in one word, exhilarating.
Under the hood, the 370Z is equipped with a 3.7-L V6. Continuously Variable Valve Timing Control System or CVTCS with advanced Variable Valve Event and List technology continuously tunes valve lift and timing for quicker response and a broader torque curve, while optimizing fuel efficiency and reducing emissions. Nissan also cut weight by using high-tech, lightweight materials including carbon-fiber composite driveshaft and carbon-fiber composite radiator support structure. 
Shifting gears in the Z will make you feel like you're an extension of the car. Nissan worked to enhance that feeling which is why they added an EXEDY High-Performance Clutch to every 370Z with a manual transmission. The EXEDY clutch allows for reduced pedal effort and enhanced prevision and control. 
To help the Nissan 370Z handle, the engine's center of mass was pushed back behind the front axle, and the front wheels moved closer to the corners, allowing for optimum balance and handling. Nissan engineers also gave the Z a 55/45 ratio which puts 55% of the weight in the front and 45% of the weight in the rear. When the driver accelerates out of a corner's apex, the weight distribution shifts rearward and becomes an approximate 50/50 balance. This translates into increased tire contact for better acceleration, quicker turns and improved handling. Finally, to grip the road better, the 370Z comes with 18" Yokohama ADVAN Sport high-performance tires which help keep you connected to the vehicle.
When you need to stop, Nissan added their largest brakes ever: available 14" front rotors, with the gripping power of 4-piston front calipers. In short, the 370Z will stop when you need to stop.
The Nissan 370Z will fulfill anyone's need for speed. With a combination of performance, aesthetics and heritage, the 370Z is quickly becoming one of Nissan's most iconic vehicles. Also new for 2019 is the 370Z Heritage edition. The Heritage edition is an ode to the rich heritage of the Z, a sports car that took the world by storm. To learn more about the new 2019 Nissan 370Z or test drive one for yourself, visit AutoNation Nissan Pembroke Pines today!