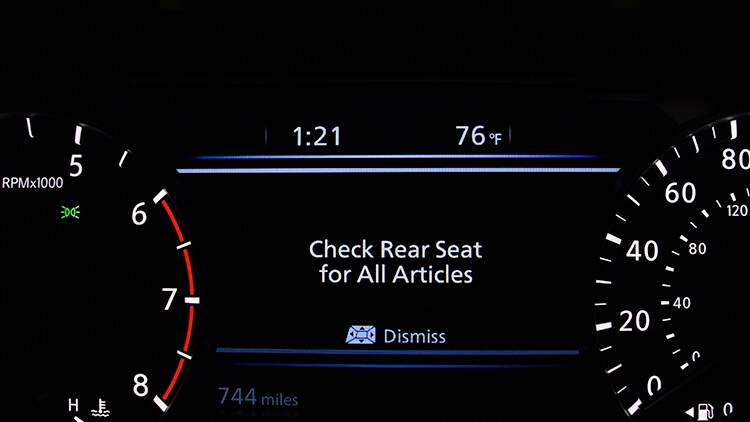 Nissan has just announced that its industry-first, Rear Door Alerts technology will become standard on all 2019 Nissan four-door models. This innovative technology will remind the driver to check the back seat for precious cargo including (but not limiting to) pets, children, valuables and the occasional takeout in order to help reduce heat stroke incidents. 
While this first of its kind technology has already made its standard debut on the 2018 Nissan Pathfinder along with the 2019 Altima and Rogue, eight total 2019 Nissan vehicles will feature Rear Door Alert.
This technology was first evoked by Nissan USA Industrial Engineer Elsa Foley and Mechanical Engineer Marlene Mendoza after Mendoza left a tray of lasagna in her car overnight. "The worst thing was the car smelled for days, but it made me ask myself, 'what if that had been something else back there?'" Foley said. Both Foley and Marlene were new moms and identified the need to help remind drivers to never leave anything behind in the backseat. "We would read reports of incidents in which parents accidentally left a kid in the car, and I always worried that would happen to me," Mendoza said. "So we started brainstorming, and that's when we came up with the idea."
"There's a culture of innovation along with the Nissan Intelligent Mobility mission that really encourages employees around the world to seek out new ideas every day," said Mendoza. "We're thankful that we were able use our perspectives as moms, and our backgrounds as engineers, to bring forward an idea that is now going into production - providing drivers with a reminder to check their back seats."
How Rear Door Alert Works
Rear Door Alert monitors when the rear passenger doors are opened and closed before and after the vehicle is in motion. If the rear door is used prior to a trip but was not re-opened after while the ignition is off and the car is in park, a series of notifications will remind the driver to check the rear seats; first the system will display a notification in the instrument panel and then progresses to subtle, but distinctive chirps of the horn.
While the Rear Door Alert will notify the driver regardless of why the rear doors were opened whether it be to put a child in a car seat, securing pizza takeout or throwing in your gym bag, Nissan car owners will be able to disable RDA temporarily or permanently through the display screen. While this feature is not needed in every situation, Nissan discourages permanently disabling RDA as outside temperatures of fewer than 70 degrees can increase the temperature of the inside of a car to 110 degrees, a temperature very dangerous for your most precious cargo.
Drivers interested in learning more about Nissan's new Rear Door Alert are encouraged to contact a member of our team here at [Dealership Name]. Want to see the new safety feature up close and in person? If so, don't hesitate to stop in and see us at our location in [Dealership City].